Consolidate your freight expenditure
Deliver goods from A to B when needed
Sometimes, you need to book transport services out of your agreements and there is no time for a freight RFQ.
For this reason, we have developed our spot request functionality for ad hoc transport, so your users can get a price to deliver goods from A to B when they need it, complying with internal agreements and keeping 100% visibility in the process.


Fantastic overview and visibility
Save time and reduce freight expenses


"The ROI is way better than good"

"The tool frees up a lot of time for us"

"It's so easy to use and looks great!"

European chemical company

How can I use spot request?
There are many examples when spot request can be used. Below we list some normal situations where spot request and live auction can add value to your organisation.
AIR FREIGHT
Shipping goods by air transport is quick but also expensive. Your freight agreement might be good for low weight shipments, but why not use spot bidding functionality for heavy weight/bulky shipments.
LIMIT CAPACITY
Is your nominated service providers out of trucks or drivers, and you still need to ship your goods to customer. Use spot reqeust tool to secure your deliverables to your customer and stakeholders.
BENCHMARK MARKET PRICE
Want to check what is market price for actual shipments. Use spot request tool to quickly ask the market and your preferred logistic service provders for a price from A to B.
NEW BUSINESS
Are you growing your business, adding new customers or finding new suppliers. Use spot request tool to get market prices for your transportation needs. Growing your transport network has never been easier.
Select place of origin and destination, type of transport, type of goods and timeline, invite your selected carriers, now your reverse auction has started, let the system do the rest!

Once the bidding time has ended, you will be able to select your preferred carrier and book their services in just a couple of clicks. The system keeps track of everything, so you can use this data in your next tender.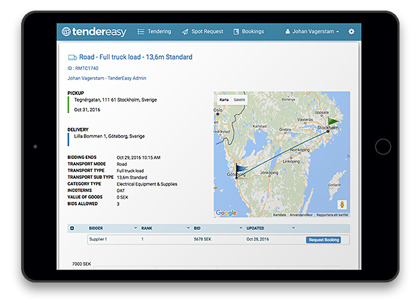 Interested in the spot request tool?
Fill in your contact details and one of our product specialists will contact you.