Managing a successful freight RFQ
Are you about to plan a freight tender RFQ / RFP? Or perhaps you've already started your work preparing for a freight tender, but soon realized it was way more complex and time-consuming that you could imagine.
No worries, we've compiled a complete guide for managing a successful freight tender RFQ!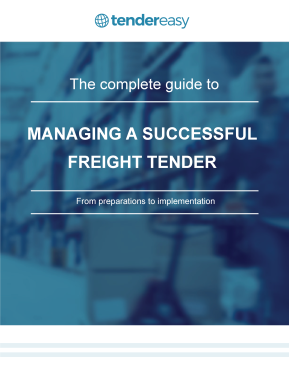 What you'll get:

A complete guide.
Chapters from preparations to implementation.
Useful checklists.
Practical tips.
Best practices based on our vast experience.
Download the complete guide!
Working with large organizations and providing them with our freight e-sourcing platform, we are transforming the way companies manage their freight tender RFP / RFQ's.

We would like to share our experiences, so you can avoid some pitfalls and make the RFQ process easier.

In this complete guide, we will discuss the whole RFQ process:
1: Preparations
2: The RFQ setup
3: Bid collection and analysis
4: Awarding and implementation