Freight Procurement in 6 clicks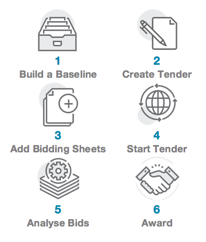 With the arrival of 2017 we are aware that there is a need for innovation within the transport tendering industry.

It has been proved that the traditional logistics tendering environments are lacking on innovation, specially if you compare it to other industries. The main reason for this could be the unclarity of what solutions are available in today's market.

Today we want to discuss everything you need to know to get started in the innovative freight tendering market. Which is why we are simplifying the process in 6 steps!


1 - Gather the baseline from your TMS. A baseline is your "current situation", your shipments and volumes being shipped.

2 - Create the tender and add the info required. All LSPs invited should have sufficient knowledge about your requirements.

3 - Add bidding sheets for the different pricing structures you want to run.

4 - Launch the tender and bidders are automatically invited. Bidding process is normally a process that takes some weeks.

5 - Once bids are received, it is time to run scenarios and make your analysis. Provide color coded feedback and do additional bidding rounds and built-in negotiation.

6 - Allocate volume and award the business to the LSPs. Create your final scenario with the result, share nominated lane allocation with stakeholders.