Merry Christmas and Happy New Year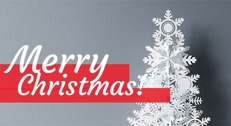 Here at TenderEasy, we're already feeling the Christmas spirit, even though the Holidays haven't officially started yet. And guess what. We'd love to share all this happiness, and wonderful atmosphere with you.

It´s been a long year full of Tenders, for all types of freight modes, and many companies have been optimising their freight procurement with TenderEasy. But now it´s time to wish you Merry Christmas and a Happy New Year!