Improved Supplier Feedback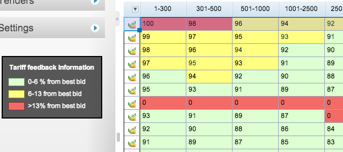 We are proud to release the new 'supplier feedback' functionality in TenderEasy. When your tender bidding round has ended you can give suppliers (bidders) specific and direct feedback per lane or tariff how well they are performing compared to those best-in-class. The feedback can be given in percent or by the supplier's position in the actual bid. Feedback is given in text but also in colors.

Feedback can be given for cost as this is always interesting. But the nice thing is that you can also provide feedback for lead time, emissions (co2) and more.