New release based on survey result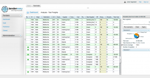 Based on our user surveys during last summer/autumn we planned what improvements should be added to the system. We decided to put usability in focus, and most of these improvements are made for suppliers. And we have had spontaneous positive feedback from suppliers already after a couple of weeks.

Tender mangers also got some improvements. For example the supplier tracking functionality makes it easy to se what suppliers are working on their bid even before they submit their bid. Then it's easy to send direct feedback and reminders to suppliers. These are improvements that we know will make the tendering work even easier for tender managers.

Thanks you all for the feedback!